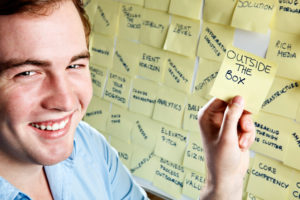 Communication challenges are the basis of so many business problems. At the same time, businesses and the people who work in them are incredibly attached to their jargon, acronyms and buzzwords.
The idea behind these things is making communication among those "in the know" more efficient- why would I say "Analysis-Design-Development-Implementation-Evaluation" when I could say "ADDIE"?  But for whatever small efficiency gains among a small group- it causes much bigger challenges for those outside the group.  I do my best to limit my jargon and buzzword usage, but I still struggle with this!
In order to help facilitate better communication, here's a list of 15 buzzwords, jargon, and acronyms that come up frequently in my day-to-day:
ADDIE: Analysis-Design-Development-Implementation-Evaluation, a widely used instructional design framework
Agile: Methodologies for (software) development that involve requirements and solutions evolving through collaborative effort and adaptive change
Asynchronous: Learning that combines self-study and asynchronous interactions (discussion boards, etc) to achieve objectives
Buy-in: Approval and support of an idea or action
BYOD: Bring your own device- meaning content may be accessed using any number of different devices or methods
Cloud: a tech term referring to external configurable resources that can be used for software, storage, or other computing needs
Design Studio: A method for early designs that speeds up initial design processes
Gamification: The application of game principles in non-game contexts
Kirkpatrick model: A commonly used "4-level" model for learning evaluation.
Microlearning: Comparatively smaller learning units and activities
RACI: Responsible-Accountable(Approver)-Consulted-Informed, a common method for illustrating responsibility assignment
ROI: Return on investment
SAM: Successive approximation model- a framework for instructional design project management that draws from agile methodologies
SWOT: Strengths-Weaknesses-Opportunities-Threats, A structured planning method that evaluates these four elements of a particular team or venture
Universal Design: designs intended to be accessible to the largest possible population of users
Training Industry has a more instructional/learning related glossary to check out. If there are any plaguing your daily life, add them in the comments!
https://www.jennyrhill.com/wp-content/uploads/2016/04/jrh-logo.png
0
0
Jenny R. Hill
https://www.jennyrhill.com/wp-content/uploads/2016/04/jrh-logo.png
Jenny R. Hill
2017-11-01 14:21:36
2017-11-01 14:29:44
Jargon, acronyms, and buzzwords- oh my!